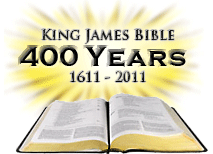 Celebrate the Book that has Changed the World.
For 400 years, the King James Bible has impacted millions of people, influenced culture, and transcended numerous generations.

With more than 6 billion copies published, the Bible is the most popular book in the world, and the King James Bible is the most published Bible translation. Its inspired words has brought peace, joy, and hope to millions of people and is regarded today as one of the most accurate translations.


Bible Facts
The Bible is the best selling and most distributed book of all time. Estimated more than 6 billion copies published1
Originally written in 3 languages: Hebrew, Greek, Aramaic2
Written over a span of 1,000 or more years3
Written by more than 40 authors, including kings, prophets, poets, musicians, and fisherman4
Books include letters, poetry, songs, legal documentation, eyewitness accounts, biographies, historical literature and documents5
Translated into 2,454 languages of the world's estimated 6,500 total languages6
It is commonly believed that the writing of the Old and New Testament was inspired by God
References:
1. Bible Society 1992 survey (http://www.biblesociety.org.uk/about-the-bible/what-is-the-bible/what-is-the-bible-2/ also http://www.ipl.org/div/farq/bestsellerFARQ.html)
2. http://www.christiancourier.com/articles/200-languages-of-the-bible
3. Bible Society (http://www.biblesociety.org.uk/about-the-bible/what-is-the-bible/what-is-the-bible-2/)
4. Ibid.
5. Ibid.
6. United Bible Societies (http://www.unitedbiblesocieties.org/?page_id=2)
King James Bible Facts
The most popular Bible translation; an estimated 1 billion or more copies have been published1
The translation was brought upon by King James I of England2
First published in 1611 A.D. (some believe between May 2nd - May 5th)3
More than 169 original 1611 King James Bibles are in existance today4
Gothic text and Jacobean spelling was used in the original 1611 version, which is noticeably different than 21st Century English5
80 books were included (39 in Old Testament, 14 in Apocrypha, and 27 in New Testament)6
Contains 788,258 total words, of which 14,565 are unique7
The title was not originally called the "King James Version", but "THE HOLY BIBLE, Containing the Old Testament, AND THE NEW: Newly Translated out of the Original tongues: & with the former Translations diligently compared and revised, by his Majesties special Commandment"8
1814 A.D. is the earliest recorded date of it being called "King James Version" or "Authorized Version"9
The original book was very large: approximately 17" tall, 30" wide when opened, and it weighed up to 30 pounds10
The first 1611 Bibles were expensive and were chained to the front pulpit of churches, to prevent from being stolen11
Prior to the 1611 King James Bible, most churches did not have Bibles12
The King James Bible is the first English Bible ever printed in the United States- first printed by the King's Printer in England, then printing and distribution spread throughout the world13
Public officials on all levels of United States government, including presidents, have taken their oath of office with the King James Bible14
A committee of 54 translators worked for 7 years to complete the King James translation15
References:
1. http://www.kingjamesbibletrust.org/files/kjbt-booklet.pdf
2. Ibid.
3. http://kjv400.co.uk/ and http://www.squidoo.com/king-james-bible-400th-birthday
4. Donald Brake, PhD, A Royal Monument of English Literature: The King James Bible 1611, Credo House Publishers, 2011, http://www.credocommunications.net/KJV
5. http://www.jesus-is-lord.com/kjworkes.htm and https://www.angelfire.com/la2/prophet1/holybiblepictures.html
6. http://en.wikipedia.org/wiki/List_of_books_of_the_Authorized_King_James_Version
7. http://www.kingjamesbibleonline.org/Popular-Bible-Words.php
8. http://en.wikipedia.org/wiki/Authorized_King_James_Version
9. Ibid.
10. http://www.greatsite.com/facsimile-reproductions/kingjames-1611.html
11. http://www.greatsite.com/timeline-english-bible-history/
12. Ibid.
13. http://thomas.loc.gov/cgi-bin/query/z?c112:H.CON.RES.38:
14. Ibid.
15. http://www.npr.org/2011/04/18/135437890/king-james-bible-now-400-still-echoes-voice-of-god